Concert for Hope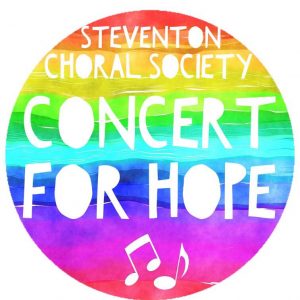 Sunday 18th April 2021, 7.00 to 8.00 pm
A virtual concert by Zoom

Musical director: Terry Pearce
Pianist: Robert Thomas
Our second online concert via Zoom presented a hope-filled and uplifting selection of music looking forward to a time when we can all sing together in person. Some 60 people viewed the event online. Watch a recording of the concert
The concert featured virtual recordings of the choir and various videos – some made recently and some from previous live concerts. Comperes for the evening were Howard Feather, Helen and Terry Pearce.
Two recordings by the choir began the concert. The first was Hubert Parry's famous hymn, Jerusalem, accompanied by a screen show of images from England's 'green and pleasant land'. The second was Climb Ev'ry Mountain, by Richard Rodgers and Oscar Hammerstein III from the popular musical and film, 'The Sound of Music', with a screen show of images from past SCS concerts.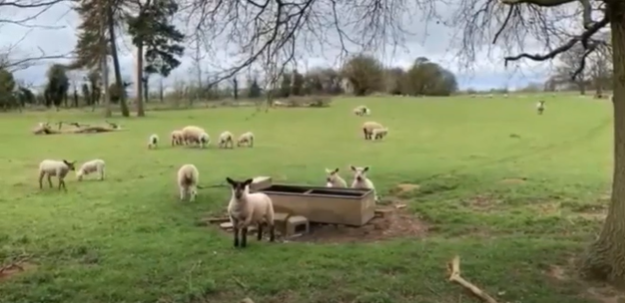 This was followed by a video from the Christmas Concert in 2018 of Helen Pearce, Abby Evans and Frances Brightman singing an arrangement of Fascinating Rhythm by George and Ira Gershwin from the 1924 musical 'Lady Be Good'.

Then came four recent recordings made inside St Michael & All Angels Church in Steventon – with kind permission of the vicar, Revd Phil Sutton.
First was Trish Napper singing the well-known hymn, Praise to the Holiest in the Height (words by John Henry Newman and tune by John Bacchus Dykes). Then one of the choir's founder members, Jack Jarvis, read from a book of poetry – Verses from Life – given to him by its author, the late Arthur Baylis (a former patron of Steventon Choral Society). Jack chose two poems: 'My love and I'; and 'On finding a photograph of my wife taken when she was a young girl'.
Next sopranos Helen Pearce and Rebecca Joisce sang You Raise Me Up (music Rolf Løvland, lyrics Brendan Graham), followed by Howard Feather (tenor) singing the Welsh hymn, Llanfair, composed by Robert Williams.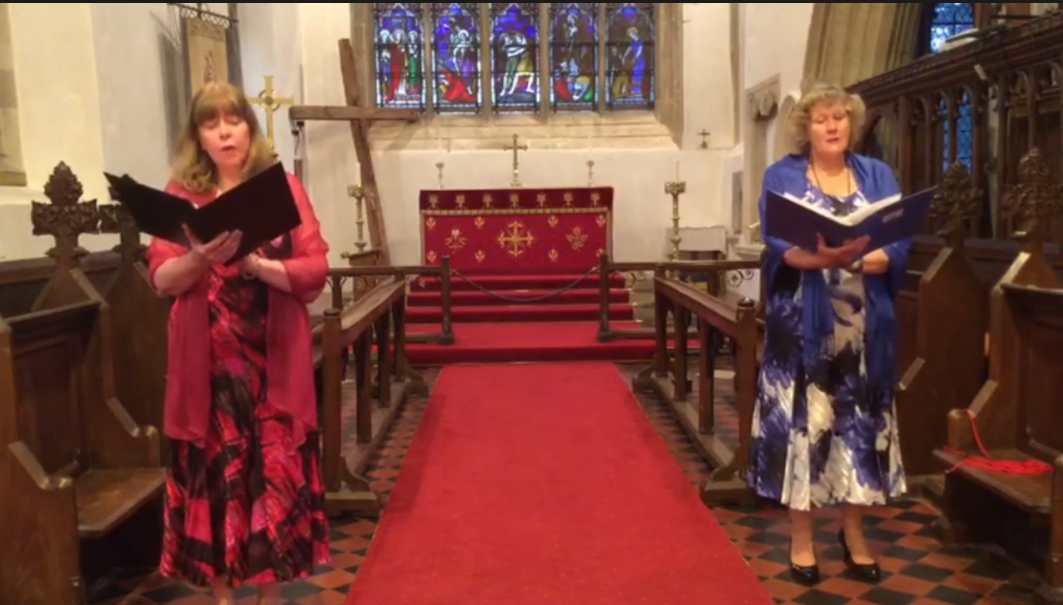 The Diamond Anniversary Gala Concert in June 2019 featured a small group in 1950s' costume and props performing Seven Little Girls Sitting in the Back Seat (a kissing and a hugging with Fred) – a hit from 1959, the year the Choral Society was founded. The seven girls were played by Danielle Beeken, Frances Broadbent, Abby Evans, Sharron Jenkinson, Rebecca Joisce, Trish Napper and Helen Pearce. 'Fred' was Edward Dann, the driver was Andy Softley and the driver's long-suffering wife (sitting in the front seat) was Liz Softley. Tonight we saw the video made by Jamie Beeken of their performance.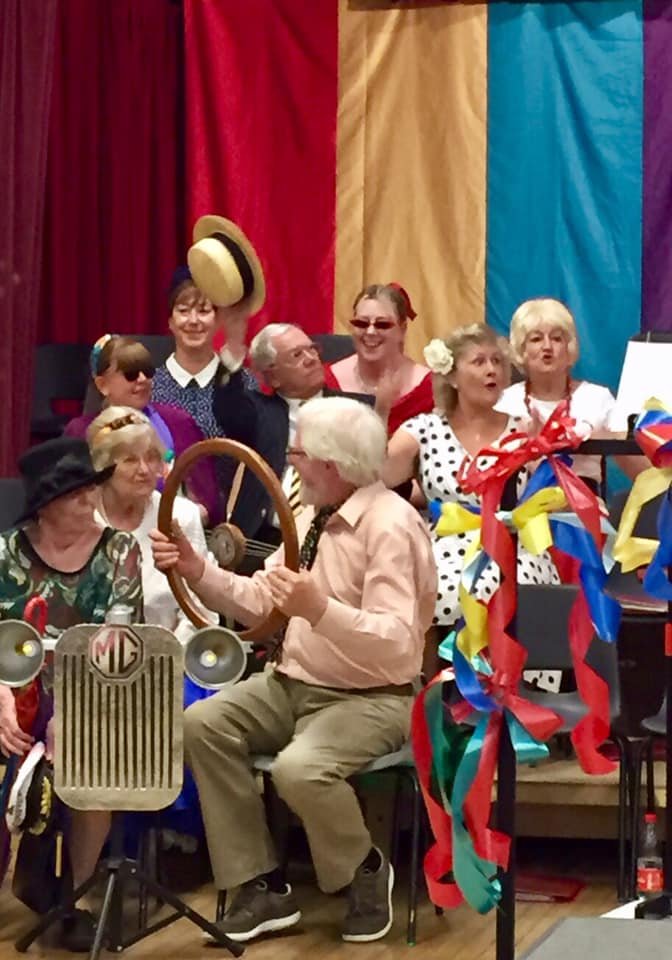 In a further item recorded recently in Steventon Church, Rebecca Joisce – SCS's queen of folk songs – performed From Where I Stand accompanying herself on the autoharp. Next was a recording, made herself at home, of Abby Evans (alto) singing the Bette Midler song, The Rose.
Over the years many SCS concerts have featured John Hunt amusing us with a funny story. This concert was no exception: filmed in his garden John told us two – one about a satnav and another about how hopeless men can be. Then it was back to Helen Pearce singing Count your Blessings (instead of sheep), an Irving Berlin hit used in the film 'White Christmas' – again recorded recently in Steventon Church.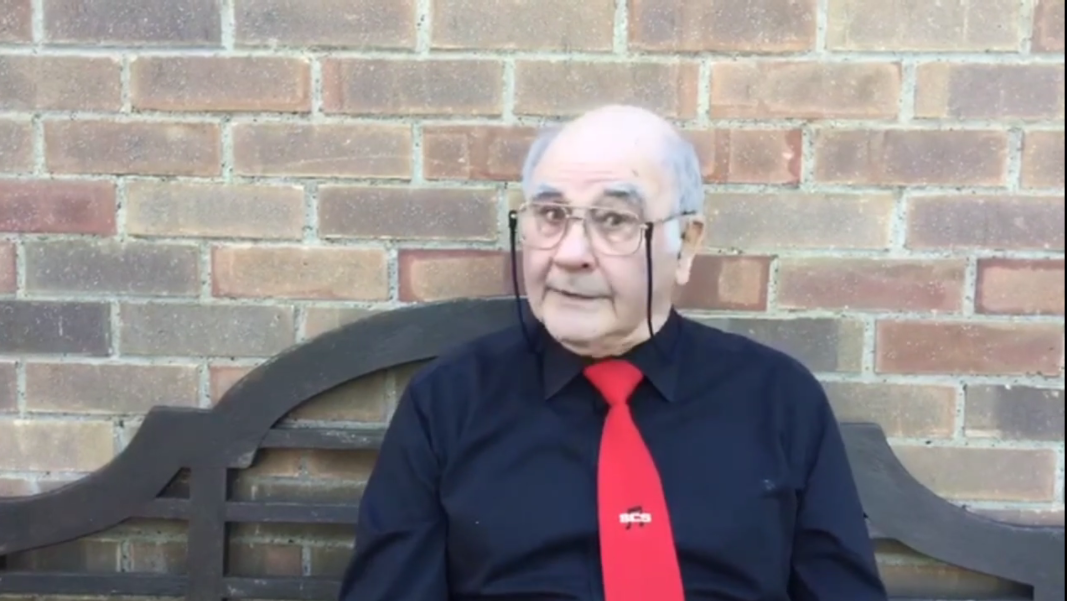 Back in June 2016 the second half of our concert, '90 Glorious Years of Popular Music', began in the 1970s with All That Jazz from the musical Chicago by John Kander and Fred Ebb with the choir's own 'dancing girls'. For this 2021 concert the number was re-created in a virtual recording by some of the ladies – recording themselves at home on their own – and a screen show of photographs taken at the 2016 concert.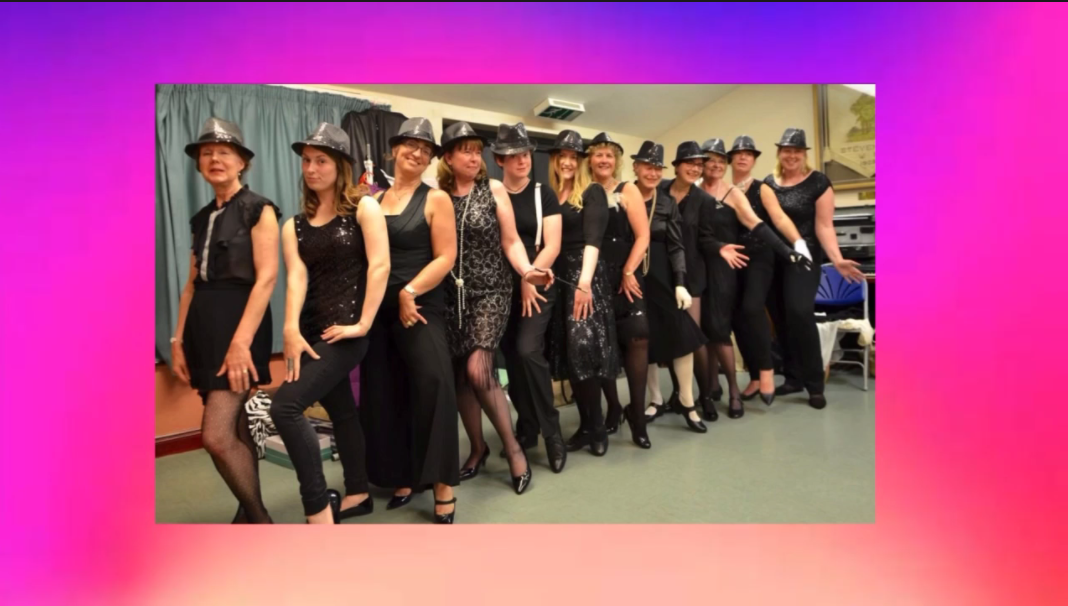 Our chairman, Caroline Miller, wasn't of course able to give her usual thank you's in person; instead she was filmed giving them a few weeks before in the sunshine outside Steventon Church.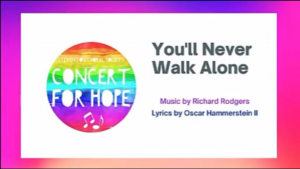 The final item in the concert was a virtual recording by choir members of the well-known song, You'll Never Walk Alone, from the musical 'Carousel' by Rodgers and Hammerstein. The recording was accompanied by a film made up of short videos of individual various choir members waving 'goodbye'.
"Thank you Steventon Choral Society for your enjoyable concert last night. We appreciate your efforts and it was the next best thing to a real Concert!"
"Thank you to everyone involved in tonight's concert. It was so special to see you all and to hear the super selection of songs."
---
Zoom into Christmas with Steventon Choral Society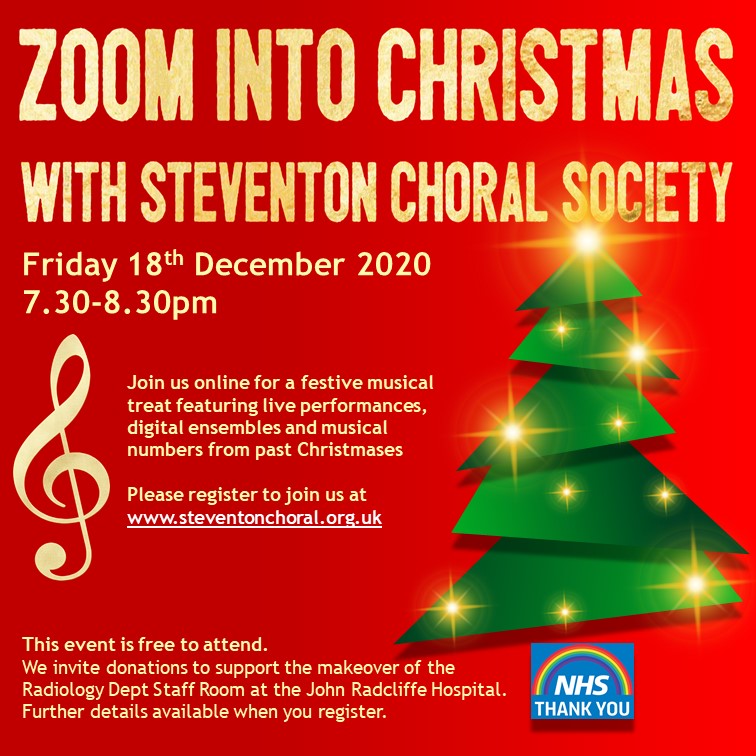 Friday 18th December 2020, 7.30 to 8.30 pm

A virtual charity Christmas concert by Zoom

Musical director and guitar: Terry Pearce
Pianist: Robert Thomas
With rehearsals having been suspended since March, this offering was SCS's first ever virtual concert and its first public performance since its two Christmas concerts last year. It's hard to know exactly how many people joined the Zoom event but it was at least 70.
The concert featured live performances, digital ensembles and musical numbers from past Christmases. It consisted of a mixture of virtual recordings, videos and live items – all introduced by musical director, Terry Pearce. A slide show of photos from the choir's album and festive images were shown during the virtual recordings.
The event was free to attend with donations invited to support the makeover of the Radiology Department Staff Room at the John Radcliffe Hospital in Oxford as a thank you to the hardworking NHS staff who use it. Further details from the project's JustGiving CrowdFunding page.
The concert began with a virtual recording by members of Steventon Choral Society, the well-known carol 'O Little Town of Bethlehem'. This was followed by a live reading of the short poem, 'The Inconvenience of Christmas', by SCS chairman, Caroline Miller, and a virtual recording of choir member Trish Napper singing 'It Came Upon the Midnight Clear'. The first video of the concert featured one of the highlights of the Christmas Concert 2018 – Howard Feather, Luke Le Maitre, Phil Brazier and Crispin George singing a four-part arrangement of 'I, the Lord of Sea and Sky' (Here I Am, Lord) by the American composer, Dan Schutte. This was followed by a virtual recording of Rebecca Joisce singing the Christmas anthem, 'Bethlehem Down', accompanying herself on her autoharp. Next, in contrast, was a video from the Christmas Concert 2019 of Helen Pearce, Abby Evans and Fran Brightman with an arrangement of the well-known Christmas song, 'Sleigh Ride'. And back again to the traditional, with a virtual recording of the carol, 'Deck the Hall', sung by Helen Pearce, Debbie West, Howard Feather and Terry Pearce.
Then it was back to the 20th century with a live reading of John Betjeman's 1954 poem, 'Christmas', by John Hunt, a virtual recording of Howard Feather singing 'Blue Christmas' – a Christmas song made famous by Elvis Presley – and another video from the Christmas Concert 2019, this time featuring the whole choir singing John Rutter's carol, 'The Colours of Christmas', written in 2011.
Next was a virtual recording of choir members singing the popular carol, 'O Come All Ye Faithful'. Another poem followed: 'Christmas Bells' was read by Jack Jarvis, a founder member of Steventon Choral Society, in a video recorded earlier in the week in the chancel at St Michael and All Angels, Steventon. The next item, also a video recording, featured Helen Pearce singing 'Have Yourself a Merry Little Christmas', a song from the 1944 musical, 'Meet Me in St Louis and starring Judy Garland.
Then it was time for some fun with a live performance of 'The Twelve Days of Christmas' led by Helen and Terry Pearce, with various choir members 'representing' the 12 different days.
Finally after a short thank-you from SCS chairman, Caroline Miller, it was time for the last number, We Wish You A Merry Christmas' – one of the tracks from the CD of carols and Christmas songs recorded by the choir in 2008.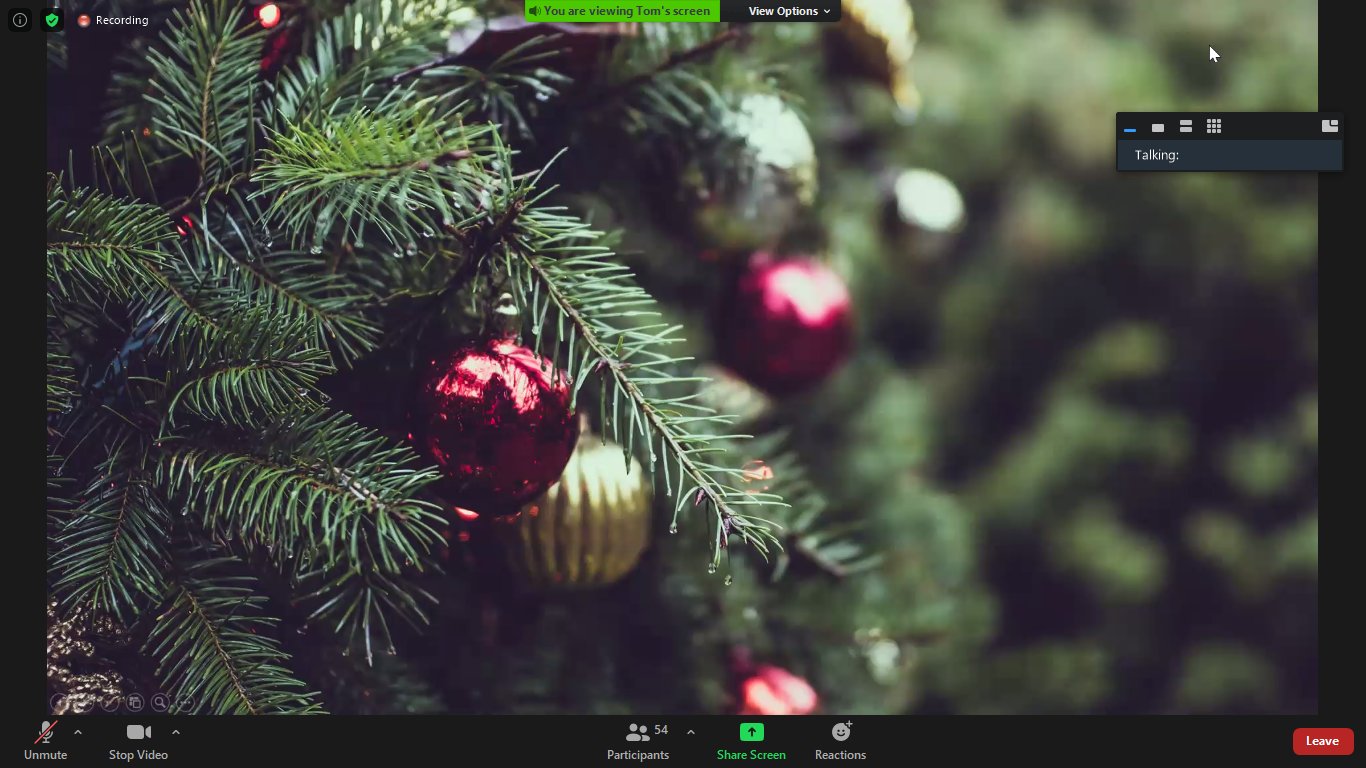 This virtual concert would not have been possible without the wizardry of our technical team of Howard Feather, Tom Hartley and Debbie West. Many thanks to them and our accompanist Rob Thomas for all their efforts and hard work.
"Just watched the SCS concert, well done to all who took part.

"
"Thank you for a brilliant concert, I really enjoyed it and it was so good to join in with some of our Christmas favourites."