We are a friendly mixed voice choir of some 50 singers. We sing music from Handel to Lloyd Webber, performing at least five concerts a year. Our varied repertoire includes popular music, light classics and musical theatre as well as major choral works. We celebrated 60 years of singing in 2019.
We rehearse on Thursday evenings at Steventon Village Hall in south Oxfordshire. There are no auditions and all music is provided. All voices welcome, though we're particularly keen to hear from any tenors or basses. If you're interested in joining please phone our secretary Helen Pearce on 07748 152967 or fill in the contact form.
Rehearsals are currently from 7.45 to 9.30 pm with a short break for announcements. Covid Protocols will be in place in line with government guidance and Steventon Village Hall conditions of hire.
Christmas 2021 with Steventon Choral Society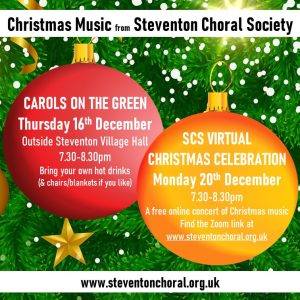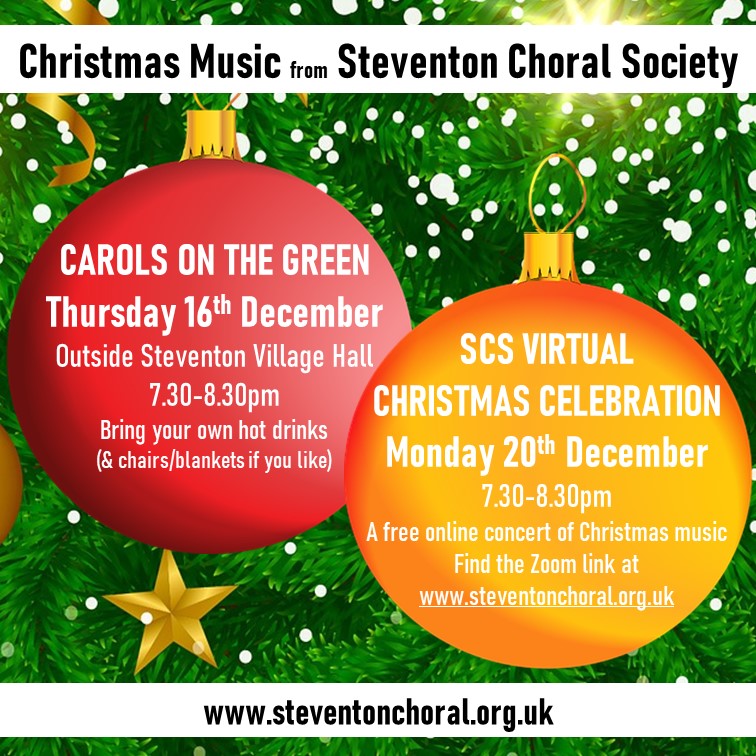 Carols on the Green
Thursday 16th December from 7.30 pm
Outside Steventon Village Hall
Only if the weather is dry. Please bring your own hot drinks, blankets and chairs if you'd like to. We'll be there for around an hour (perhaps slightly less if it's really cold…).
Virtual Christmas Celebration
Monday 20th December, at 7.30 pm for an hour
Free online concert of Christmas music
Click here to join the Zoom meeting