Steventon Choral Society was formed on 27 February 1959. Below are details of some of the highlights of its history.
60th anniversary celebrations
The celebrations lasted throughout 2019, highlights being a special choir dinner in May 2019 at The Bear in Wantage,  a gala Diamond Anniversary concert in Steventon Village Hall in June, the biennial Voices for Hospices Concert supporting Sobell House Hospice in Oxford in September, and a thanksgiving service in Steventon Parish Church followed by a splendid tea party in October.
November saw the publication of 'Sixty Years of Song: A History of Steventon Choral Society 1959 – 2019', compiled and written by choir member Sharron Jenkinson on behalf of the choir. Please use the contact form if you'd like to order a copy (price £6 plus P&P).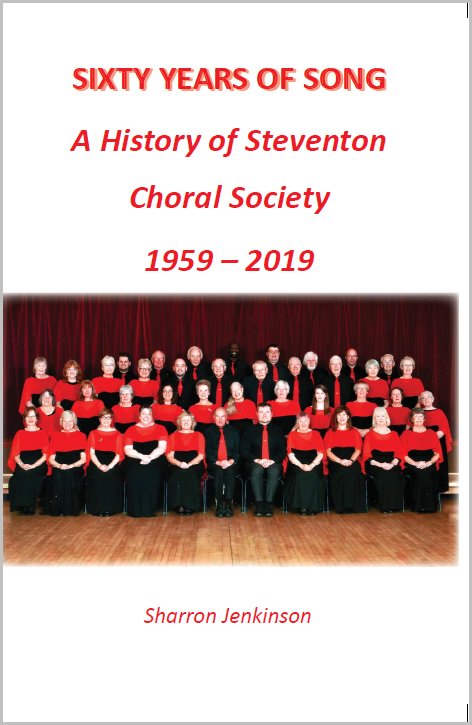 50th anniversary celebrations
Major celebrations were held in 2009 to commemorate its 50th anniversary. These included a thanksgiving service at St Michael and All Angels Church, Steventon, followed by afternoon tea in St Michaels Hall complete with a piece of birthday cake.
The beginning of Steventon Choral Society — as remembered by Jack Jarvis
"There were four of us – Frank Bunce, Roly Cox, George Stevens and myself. We were members of a male voice choir in the then United Reform Church, next to Barclays Bank in the Square in Abingdon (the building is still there). On Monday evenings we caught the bus from Steventon. This was in 1957/58 and none of us had a car. On about four occasions, Roly Cox suggested that we could find enough people in the village to form a choir – but that was as far as it went. At a meeting of the Parochial Church Council, we were trying to think of ways to encourage more people to attend the annual parish meeting. I suggested we could form a small choir to sing at the meeting, which might encourage people along. The vicar, the Reverend W Boker, said 'that I should see what I could do'. (Make a suggestion and you're landed with it.) After the meeting, I spoke to Jim Hobson and my father, Tom, and we agreed to get together to talk about the idea. We met at my home in Castle Street and agreed we would each approach different people and invite them to come along to a meeting. This we did and on 27th February 1959, Steventon Choral Society was born. We never did sing at the Church annual parish meeting."
Steventon Choral Society has been going strong ever since. Tom Jarvis became the first chairman of the choral society and Jim Hobson the secretary. Geoffrey Harding was the first musical director and Violet Hobson the first pianist. Jack took over from his father as chairman in September 1964, serving until February 1971. In 2000, he stood down after a three-year spell as choir treasurer! But he still sings in the tenor section of the choir.
Steventon Choral Society on TV
In 1995, members of Steventon Choral Society received national coverage with an appearance on television in a BBC2 documentary, The Messiah from Scratch, at the Royal Albert Hall organised by The Really Big Chorus and conducted by the legendary Sir David Willcocks. Messiah from Scratch, which celebrated its 25th anniversary in 1999, is an annual event for charity with all proceeds from programmes and collections going to the British Heart Foundation.
The TV programme followed the journey to London of various groups of singers and examined their reasons for going to take part in a chorus of some 3,500 voices. As a regular visitor to Messiah from Scratch, Steventon Choral Society was approached to take part as an example of a larger choir. The cameras came out to Steventon in the autumn to film the choir supposedly rehearsing for the trip, to take some shots around the village and to interview our musical director, Terry Pearce. On the big day we were filmed getting on the coach, travelling along the A34, giving an impromptu rendering of the Hallelujah Chorus on the coach, getting off the coach and inside the Royal Albert Hall itself! With the televising of the 50 minute programme during the Christmas period, we achieved a brief moment of glory and then it was back to normal rehearsing in Steventon Village Hall.
Musical director's big night at the Royal Albert Hall
The Messiah from Scratch on 24 November 2000 was a night to remember for our musical director, Terry Pearce. A donation to the British Heart Foundation by a friend gave Terry the opportunity to conduct the assembled massed choir and orchestra for the Hallelujah Chorus.
Writing in the next choir newsletter, Terry said: "We had been to the Royal Albert Hall many times before but this time it was a bit special. Our friend, John Cook, had made a large donation to the British Heart Foundation and in return they had told him that there would be an extra performance of the Hallelujah Chorus which he could conduct. Or if he did not feel he could do this, he could nominate somebody on his behalf. He decided to phone a friend.
So there I was sitting amongst the basses, one of four thousand singers, trying not to think about what was about to happen. I concentrated on singing and came through the first half unscathed. Then it was into the bar for a much needed glass of orange juice. I was getting nervous. There were words of encouragement from Helen, Tom and John – then it was back into the hall. We are sitting there, and then a gentleman from the
British Heart Foundation came out and announced John's generosity and made him stand up. He also announced that John had nominated his friend Terry to conduct for him.
I then had to take a long walk, which seemed to take an eternity, from my seat on the stage down to the conductor's rostrum at the other end of the arena. I arrived at the rostrum, but before climbing up, I shook the leader of the orchestra's hand and said, "I'll give you three four". Then, the proudest moment of my life. I stood there on the rostrum where so many of the world's greatest conductors have stood. I was aware of a figure standing to my right. I looked round and there was Sir David Willcocks. I shook his hand and he said, 'There are two batons there, please use one of them', then he was gone.
I picked up the baton and then realised I was standing on my own in front of The English Festival Orchestra and four thousand singers. I raised the choir to their feet and just prayed I wouldn't let anybody down. I looked down at the orchestra and saw that they were all looking at me. I was aware that my mouth was completely dry. Three four and they were playing. Third bar and the choir is singing. What a sound, and they are all under my control! Letter B and I must bring in the tenors, then the altos, finally the basses. Letter C must sing and play quietly, they do it, brilliant, loud again. Bring in the basses. Will the tenors get their top A? Not a problem. I am aware that it is going well and gradually the nerves are receding and I'm feeling more confident. All of a sudden I turn the page and to my horror I discover it is the last one. I don't want it to end. I'm enjoying it. We come to the final Hal-le-lu-jah, I bring the choir off.
I put down the baton and began to realise that there was applause going on. I turned to bow to the audience and to my amazement they were standing up. I turned back to the choir and orchestra and gave them a clap as a 'thank you', and then I left the rostrum. The leader of the orchestra shook my hand and said, 'You've conducted that before'. I confirmed that I had. I then set out for my seat in the seventh row of the basses having my hand shaken and being patted on the back by everyone that I passed. I wasn't aware of the Steventon ladies jumping up and down and screaming, but I'm assured they did. For about a quarter of an hour afterwards, I couldn't sing a note. At the end of the performance, people kept coming up to me to say well done. When I boarded the coach the choir sang 'for he's a jolly good fellow'. I'd like to thank John Cook for making it possible and Helen for her love and support and for making me do it."