Seventy Years of Song
A concert of songs written during the lifetime and reign of Her Majesty Queen Elizabeth II
Saturday 11th June and Thursday 16th June at 7.30 pm
Steventon Village Hall
Musical director: Terry Pearce assisted by Debbie West
Accompanist: Robert Thomas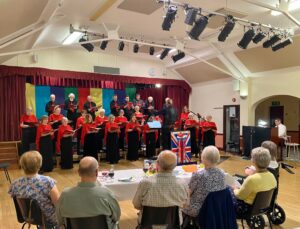 Steventon Choral Society's first face-to-face concert in Steventon Village Hall since December 2019 began with four arrangements sung by the choir of songs from Richard Rodgers and Oscar Hammerstein II musicals: Oklahoma and Oh What A Beautiful Mornin from the musical Olkahamoa (1943), June is Bustin' Out All Over from Carousel (1945) and Some Enchanted Evening from South Pacific (1949).  Next came a duet by Fran Brightman and Howard Feather singing Secret Love from the film Calamity Jane (1953) before the choir returned to sing two songs on a 'lion' theme: Can You Feel the Love Tonight from the Disney film The Lion King by Elton John and Tim Rice (1994) and The Lion Sleeps Tonight, written by Solomon Linda in 1939 under the title Mbube (Zulu for lion) and arranged by George Weiss in 1961. The choir's youngest member, Tiri Jordan, then sang Somewhere Over the Rainbow by Harold Arlen and Yip Hartburg from the 1939 film The Wizard of Oz. This solo was followed by a trio of Helen Pearce, Debbie West and Fran Brightman singing a Roger Emerson arrangement by My Land by Brendan Graham, Alana Graham and Rolf Lovland (2014) and Helen Pearce singing I Could Have Danced All Night from the musical, My Fair Lady, by Alan Jay Lerner and Federick Loewe (1964). The first half closed with the choir singing an arrangement of a selection of songs from the musical Oliver by Lionel Bart (1960).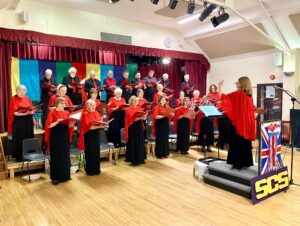 The second half of the concert began with the choir singing arrangements of Climb Every Mountain and Edelweiss from one of the 20th century's most popular films, The Sound of Music (1965), another Rodgers and Hammerstein hit. Then it was time to recognise Andrew Lloyd-Webber's contribution to successful musicals during the last 70 years with an arrangement of Love Changes Everything from Aspects of Love, first produced in the West End in 1989. The next choir item came from the same year with an arrangement of Let the River Run, written by Carly Simon for the film Working Girl.  Then came a series of three solos:
Howard Feather singing Bridge Over Troubled Water by Paul Simon and Art Garfunkel (1970)
Helen Pearce leading the audience and choir in Flash Bang Wallop by David Henker, from the musical Half A Sixpence (1963) and recent West End production by George Stiles and Anthony Drewe
 Luke Le Maitre singing Let It Be by John Lennon and Paul McCartney (1970), recognising the huge contribution of the Beatles to 20th century music
The main piece of the second half featured the choir singing the 1969 abridged version of Andrew Lloyd Webber and Tim Rice's Joseph and the Amazing Technicolour Dreamcoat written originally for school and youth clubs.  During the performance at the second concert, there was a surprise for the musical director Terry Pearce  – part of (secret) celebrations marking his 40 years of conducting Steventon Choral Society – when his stepson Tom Hartley appeared to sing the part of Pharoah in the Song of The King, reprising a role he'd taken when a choir member.
In an addition to the programme, musical director Terry Pearce brought forward one of the choir's founder members Jack Jarvis to sing the verse and first rendition of the chorus of Good luck Good Health God Bless You, a song first published in the USA in  1916 but made famous in the early 1950s by singers such as Connie Francis and Steve Conway.
The concert ended with a rousing rendition, in which the audience joined in, of Sweet Caroline by Neil Diamond, first released in 1969 and sung widely at the Platinum Jubilee celebrations.
Jubilee Concerts with Sing-along
An hour of open-air music celebrating the Queen's Platinum Jubilee

Steventon Village Green: Thursday 2nd June at 7.30 pm




Drayton Village Hall (outside): Sunday 5th June at 2 pm




Musical director: Terry Pearce, assisted by Debbie West




Pianist: Robert Thomas

Everyone was welcome at these two free events
National Anthem – an arrangement by Sir David Willcocks (verses 1 and 3)
A Nightingale Sang in Berkeley Square – romantic song popular during World War II by amongst others, Vera Lynn
Loch Lomond – well-known Scottish song featuring Scotland's largest loch and thought to have its roots in the failed Jacobite rebellion of the 18th century
Men of Harlech – well-known Welsh song, often used as a march by regiments associated with Wales
Good Luck, Good Health, God Bless You (verse sung by Jack Jarvis) – a popular song from the 1950s
In a Golden Coach, There's a Heart of Gold – a song written for the Queen's Coronation in 1953 by Donald Jamieson and made popular by Dickie Valentine
A Life Lived with Grace – one of the winners of A Song for the Commonwealth Competition to find a song to be sung at the lighting of the Jubilee Beacons around the UK and the Commonwealth on 2 June 2022
Guide Me O Thou Great Redeemer (Cwm Rhondda) – popular Welsh hymn known as the 'Welsh Rugby Hymn'
I Vow to Thee My Country – a British patriotic hymn created in 1921, based on music by Gustav Holst and words by Cecil Spring Rice
Jerusalem (And Did Those Feet in Ancient Time) – popular hymn with words by William Blake set to music by Sir Hubert Parry
Song of Liberty – patriotic song popular during the Second World War with words by A.P. Herbert set to the music of Edward Elgar's Pomp and Circumstance March No. 4
Land of Hope and Glory – patriotic song sung at The Last Night of the Proms with words by A.C. Benson set to the music of Edward Elgar's Pomp and Circumstance March No. 1
Rule Britannia (soprano solo by Helen Pearce) – another favourite from The Last Night of the Proms, with words by James Thomson set to music by Thomas Arne
Songs for everyone to join in: Any Old Iron, Don't Dilly Dally, Goodbye Dolly Gray, Oh I Do Like to be Beside the Seaside, Henery the Eighth, In the Twi-Twi-Twilight, Lily of Laguna
Sweet Caroline – a popular hit song written and performed by Neil Diamond, the unofficial anthem of the England team at Euro 2020 and chosen by Radio 2 listeners as the official Platinum Jubilee song
After the concert at Steventon, a small group from the choir made its way up to the Trig Point on Steventon Hill for the lighting of the beacon there. Before the beacon was lit the group reprised the singing of the Jubilee beacon song, 'A Life Lived with Grace'.
Spring Concert on Palm Sunday
The Armed Man – a mass for peace by Karl Jenkins and other sacred music
Sunday 10th April, 7.30 pm
Church of St Michael & All Angels, Steventon
Musical director: Terry Pearce
Accompanist: Robert Thomas
In aid of the Ukraine Humanitarian Appeal run by ActionAid.
Over £1450 raised so far. You can still donate via the SCS for Ukraine page on JustGiving.
Watch a recording of the concert on Steventon Choral Society's YouTube site
First half
Welcome by SCS Chairman, Caroline Miller

The Heavens are Telling from Mendelssohn's Elijah. Conducted by Debbie West and featuring the choir and a trio of Rebecca Joisce (soprano), Howard Feather (tenor) and Terry Pearce (bass)
Jesu Joy of Man's Desiring, 10th movement of Bach's Cantata BMV 147
Solo by Howard Feather: Where'er you Walk from Handel's opera 'Sembele'
Rejoice in the Lord Alway by Purcell, conducted by Debbie West and featuring the choir and a trio of Fran Brightman (alto), Luke LeMaitre (tenor) and Terry Pearce
Solo by Abby Evans (alto): O Rest in the Lord from Mendelssohn's Elijah
Solo by Luke LeMaitre: Panis Angelicus by César Franck
Down to the River to Pray, traditional song arranged for choir and featuring quartet of Abby Evans, Debbie West (alto), Fran Brightman and Howard Feather
Solo by Helen Pearce (soprano): How Beautiful by Twila Paris
When I Survey the Wondrous Cross, an arrangement of the traditional Easter hymn by Jones
And No Bird Sang, song by Douglas Wagner written for use during Lent and Holy Week
Second half
The Armed Man: Choral Suite – a Mass for Peace by Karl Jenkins
Kyrie Eleison
Sanctus
Benedictus (cello solo Tom Draper-Rodi)
Agnus Dei
Hymn before Action (text by Rudyard Kipling)
For the second half, the lights in the church were dimmed and the choir wore 'Support Ukbraine' brooches on their jackets.
A short silence was held at the end of the piece to remember the people of Ukraine
The concert ended with a message of peace from Revd Phil Sutton.
Virtual Christmas Celebration
Monday 20th December, 7.30 to 8.30 pm by Zoom
Musical director: Terry Pearce
Accompanist: Rob Thomas
Watch a recording of the concert on YouTube
This free concert via Zoom, watched by some 50-60 people, featured:
recordings of the choir made during rehearsals in previous weeks in Steventon Village Hall – one week wearing our Christmas jumpers and another week wearing choir dress
recordings of various solo and small group pieces made recently in Steventon Church
Musical director Terry Pearce opened the concert by introducing the first four pieces:
Hark the Herald Angels Sing – well-known Christmas carol with words by Charles Wesley set by William Hayman Cummings to music by Felix Mendelssohn
Walking in the Air – the hit song by Howard Blake from the animated film The Snowman
In the Bleak Midwinter – Harold Darke's version of this popular carol
Good King Wenceslas – the well-known carol that tells the story of a king and his page on a journey to give alms to a poor peasant on the Feast of Stephen (Boxing Day); Howard Feather (tenor) sang the king's verses and Michelle Jochym (soprano) the page's
Howard introduced the second group of pieces:
Helen Pearce (soprano) singing the Christmas song, I saw Mommy Kissing Santa Claus, first recorded in 1952
Two numbers by the choir – I Only Want to Say and I Don't Know How to Love Him – from the hit musical Jesus Christ Superstar by Andrew Lloyd Webber and Tim Rice
A duet by Helen Pearce and Abby Evans (alto) of an arrangement of Pie Jesu
O Holy Night – the choir accompanied Helen Pearce and Howard Feather singing this favourite Christmas carol set to music by Adolphe Adam and thought to be the first song to be played live in a radio broadcast in 1906
Then it was Helen's turn to introduce a group of four pieces:
Howard singing his son's favourite Christmas song, I Want a Hippopotamus for Christmas
Luke Le Maitre (tenor) singing the popular carol, O Little Town of Bethlehem, in the arrangement by Ralph Vaughan Williams
A poem, Imagine Children Looking Up the Chimney, read by Jack Jarvis, a founder member of the Choral Society
The choir singing the 2003 hit, You Raise Me Up, originally composed by the Norwegian-Irish duo Secret Garden
As the concert moved to its close, Howard introduced two items:
An arrangement of the favourite carol, Silent Night, sung by a ladies quartet of Helen Pearce, Abby Evans, Caroline Miller and Trish Napper
The choir singing an arrangement by Michael Clawson of the traditional carol, The First Noel and the Pachelbel's Canon
Closing words by the Choral Society chairman, Caroline Miller, including special thanks to Robert Thomas who had accompanied all recorded musical items
God Bless Us Everyone – a rousing song sung by the choir which featured in the Disney animated film A Christmas Carol
Terry ended the concert by thanking the technical team who'd made the virtual concert possible:
Howard Feather for putting everything together on Zoom
Tom Hartley for controlling the pictures seen on our screens
Debbie West for recording and editing the music
Her daughter, Tiri, for filming the recordings
Terry also thanked the Vicar of Steventon, Rev. Phil Sutton, for letting us use the parish church for recordings.
The concert ended with the choir singing Terry's arrangement of the Johnny Mathis hit, When A Child Is Born, accompanied by Terry on the guitar and with Debbie conducting.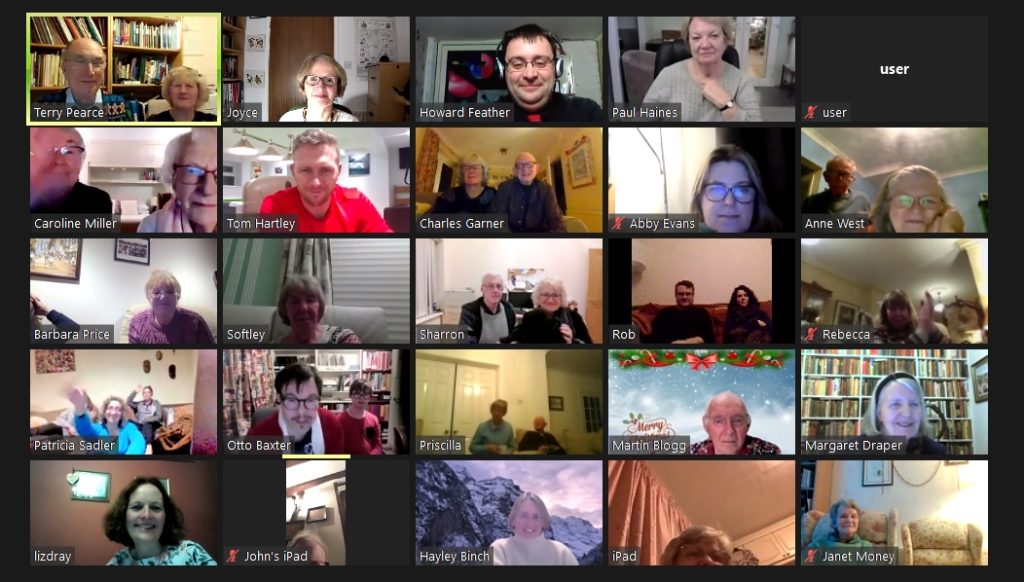 Carols on the Green
Thursday 16th December 7.30 to 8.30 pm
Outside Steventon Village Hall
Musical director: Terry Pearce
Accompanist: Rob Thomas
The choir, wrapped up warm, entertained an audience of some 50-60 people with a selection of well-known Christmas carols and songs.
Christmas is Coming
Ding Dong merrily
O Little Town of Bethlehem
While Shepherds Watched Their Flocks
Once in Royal David's City
Walking in the Air
We Three Kings
In the Bleak Mid-Winter
Deck the Hall
God Bless us Everyone
Away in a Manger
Hark the Herald Angels
Good King Wenceslas
Silent Night
O Holy Night
O Come all ye Faithful
We Wish You a Merry Christmas
The Nativity trailer from outside Steventon Church provided a Christmasy feel to the event.