Summer Serenade
Thursday 8th and Saturday 10th June
Steventon Village Hall, Steventon
Musical director: Terry Pearce
Organist: Robert Thomas
The concert began with a song called The Complete History Of Western Music, which offered a light-hearted whizz through the development of musical styles over the centuries. This introduction was followed by the choir singing an arrangement of Paul Simon's The 59th Street Bridge Song (Feelin' Groovy), Hugh S. Roberton's The Dashing White Sergeant and Love Changes Everything from the Andrew Lloyd Webber musical, Aspects of Love. The next section of the first half featured three solos – Rebecca Joisce (soprano) singing George Gershwin's Summer Time from Porgy and Bess, Abby Evans (mezzo-soprano) and Fran Brightman (contralto) singing Rule The World by Gary Barlow (performed by Take That at the closing ceremony of the London 2012 Olympic Games) and Howard Feather (tenor-baritone) singing If I Ruled The World, a song by Leslie Bricusse and Cyril Ornadel, from the musical Pickwick made famous by Harry Secombe. Then it was back to the choir with June Is Bustin' Out All Over, a song from another musical, Carousel by Richard Rodgers and Paul Hammerstein, and then an arrangement of the Mamas and Papas hit, Monday Monday. John Hunt then entertained everyone with the monologue, Runcorn Ferry, by Marriott Edgar, a further episode in the life of young Albert Ramsbottom and his parents. Next came the ladies' sections of the choir singing an arrangement of He Was Beautiful (Cavatina), a piece first written for the classical guitar by Stanley Myers, made popular as the theme from the film, The Deer Hunter, and then released by Cleo Laine as a vocal version. The first half of the concert ended with the full choir singing an arrangement of Aquarius from the 1960s musical, Hair.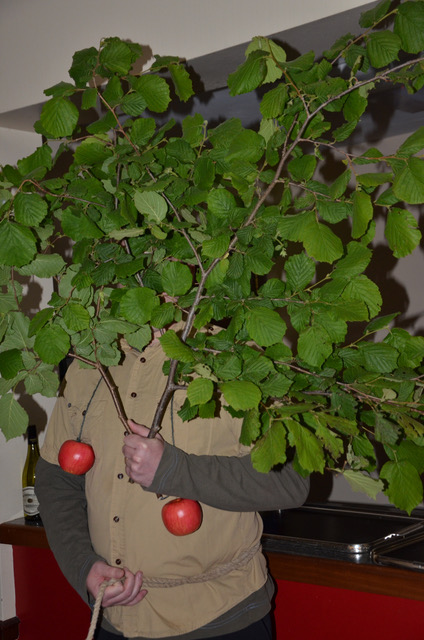 The second half opened with a song and dance version of Don't Sit Under The Apple Tree (With Anyone Else But Me), a World War II song made famous by Glenn Miller and The Andrews Sister, performed by some of the ladies and friends (including Howard Feather as the 'apple tree' and Liz and Andy Softley as the two lovers). Three of the dancers – Abby Evans, Fran Brightman and Helen Pearce (soprano) – then sang Boogie Woogie Bugle Boy by Don Raye and Hughie Price, another iconic World War II tune and Andrew Sisters' hit.
Then it was the turn of the mens' section with a hearty rendition of The Song of the Jolly Roger by Chudleigh Candish, followed by the full choir singing an arrangement of Eric Clapton's Tears in Heaven – a song written after the tragic death of his young son, and dedicated by the choir in memory of the victims of the recent Manchester and London Bridge terrorist attacks. Next came two more solos – the first time from Elizabeth Dobson (contralto) with an arrangement of Goldfinger, the James Bond theme song composed by John Barry (with lyrics by Leslie Bricusse and Anthony Newley) and made famous by Dame Shirley Bassey, and then a tribute to Dame Vera Lynn in her 100th year from Helen Pearce, who sang three of her most famous songs – A Nightingale Sang in Berkeley Square, The White Cliffs of cover and We'll Meet Again.
The concert ended with the choir singing arrangements of:
One Voice by Barry Manilow, with the first verse sung by Helen Bell (soprano), Fran Brightman and Howard Feather
Down To The River To Pray, a traditional American song
You Raise Me Up by the Irish-Norwegian duo Secret Garden (Brendan Graham and Rolf Løvland)
Consider Yourself from Lionel's Bart musical, Oliver!
---
Spring Concert

Sunday 9th April 2017
St Michael & All Angels Church, Steventon
Musical director: Terry Pearce
Organist: Robert Thomas
In aid of the upkeep of the Church
This concert on Palm Sunday began with And No Bird Sang by Douglas E. Wagner, followed by the famous Easter hymn by Isacc Watts When I Survey the Wondrous Cross. Next was one of the evening's main pieces, Faure's Requiem with soloists Rebecca Joisce (soprano) and Howard Feather (baritone). Then came another Isacc Watts hymn, Deep Harmony (arranged by Handel Parker) and Rejoice in the Lord Alway by Henry Purcell with soloists Frances Brightman (contralto), Martin Blogg (tenor) and Phil Brazier (bass). The concert ended with the second main piece of the evening, Vivaldi, Gloria with soloists Helen Pearce (soprano), Abby Evans (mezzo soprano) and Elizabeth Dobson (contralto).
---
A Musical Christmas
Thursday 15th and Saturday 17th December 2016
Steventon Village Hall, Steventon
Musical director: Terry Pearce
Organist: Robert Thomas
Proceeds of Saturday's concert to the Oxfordshire branch of the Alzheimer's Society
Music for Christmas – our concert of traditional carols and Christmas songs began with the choir singing Do You Hear What I Hear by Noel Regney and Gloria Shayne Baker, followed by Let There Be Peace on Earth by Jean Jackson Miller and Sy Miller. Then it was time for two audience carols – Unto Us Is Born A Son (4th verse sung by Rebecca Joisce) and O Little Town of Bethlehem (2nd verse sung by Elizabeth Dobson). Two songs by the choir about snow – Howard Blake's Walking In The Air from The Snowman and John West's setting of See Amid The Winter Snow – came next before a group of solo items – Abby Evans and Frances Brightman singing Hallelujah in memory of its composer, Leonard Cohen, who died in November 2016, a humorous poem from Vivienne Dann and Howard Feather singing Happy Christmas Everyone (made famous by Shakin' Stevens). The choir returned to sing Sweet Chiming Christmas Bells (anon.) and Winter Wonderland by Felix Bernard. The first half ended with two more audience carols – Good King Wenceslas (soloists Helen Bell and Howard Feather) and Good Rest You Merry Gentlemen (2nd verse by Phil Brazier and Edward Dann) and the choir singing The Little Road to Bethlehem by Michael Head and John Rutter's Colours Of Christmas.
Two popular Christmas songs from the choir, Jingle Bell Rock by Joe Beal and Jim Boothe and Sleigh Ride by Leroy Anderson, began the second half. The audience then joined in for two of the most well-known of carols – Hark The Herald Angels Sing and O Come All Ye Faithful. The choir then sang Percy Fletcher's setting of Ring Out Wild Bells, a poem by Alfred Lord Tennyson and an arrangement by Terry Pearce of When A Child Is Born by Zacar. This half's solo section featured Barbara Price reading the poem, The Night Before Christmas (also known as A Visit From St Nicholas), Helen Pearce singing Count Your Blessings Instead Of Sheep from Irving Berlin's White Christmas, a small group of ladies from the choir singing an arrangement of Silent Night, and Helen and Terry Pearce singing Bless This House by Mahalia Jackson. The choir returned to sing a pairing by Michael Clawson of The First Noel and Pachelbel's famous Canon in D, and A Christmas Blessing by Philip Stopford. The audience then joined the choir to sing While Shepherds Watched to the tune of Ilkley Moor Bah Tat. The concert ended with the choir singing The Best Christmas Of All by Randy Petersen and Kevin Quinn, and Santa Claus Is Coming To Town by Haven Gillespie and J. Fred Coots.