Voices for Hospices


Saturday 28th September
St Michael's and All Angels, Steventon
Musical director: Terry Pearce
Organist: Robert Thomas
The concert was given in support of Sobell House Hospice in Oxford as part of World Hospices and Palliative Care Day 2019. Steventon Choral Society is proud of its long association with Sobell House Hospice – Jo Lennon, an ambassador for Sobell House, attended the concert and spoke about its work and future plans. Over £1400 was raised for Sobell House Hospice.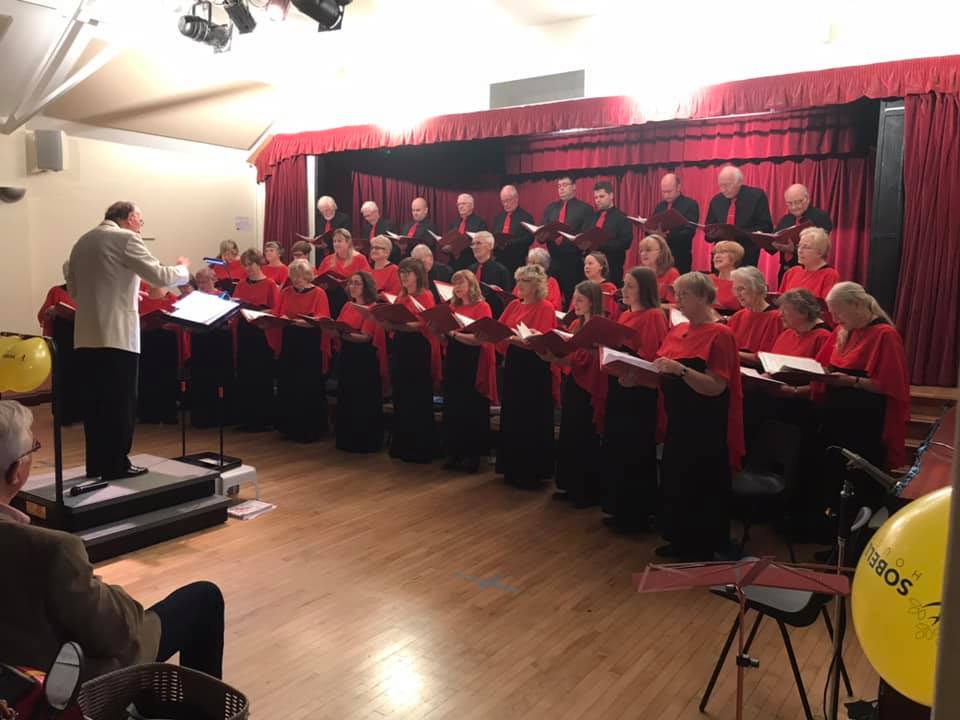 The first half featured a selection of well-known classics. It opened with the choir singing John Rutter's For The Beauty of the Earth, Purcell's Rejoice in the Lord Always (trio Fran Brightman, Luke Le Maitre, Phil Brazier), Flow Gently Sweet Afton (the setting by Jonathan Spillman of the 1791 poem by Robert Burns about the Afton Water in Ayrshire, Scotland) and How Lovely Are Thy Dwellings from Brahms' Requiem. A small group (Helen Pearce, Rebecca Joisce, Abby Evans, Fran Brightman, Luke Le Maitre, Howard Feather, Phil Brazier, Terry Pearce) then sang an arrangement for mixed voices of the Canon in D by Pachelbel before the full choir returned to sing (in French) the Cantique De Jean Racine by Gabriel Fauré and All In The April Evening by Hugh Roberton, interspersed with a solo by Luke Le Maitre, the song A Bit Of Earth from the musical The Secret Garden). The next piece was the Nuns' Chorus from the operetta Casanova by Strauss sung by a small ladies group (Helen Pearce, Trish Napper, Patricia Sadler, Helen Chomyszyn, Michelle Jochym, Abby Evans, Caroline Miller, Fran Brightman, Vivienne Dann). The first half ended with three pieces sung by the full choir – an arrangement of the traditional Scottish song, An Eriskay Love Lilt, Howard Goodall' setting of The Lord Is My Shepherd (soloist: Helen Chomyszyn) and The Irish Blessing by Bob Chilcott.
The second half began with the ever popular song, The Lion Sleeps Tonight (English lyrics by George Weiss) and Can You Feel The Love Tonight by Elton John/Tim Rice from the film The Lion King. Helen Pearce then sang Waltz Of My Heart from The Dancing Years by Ivor Novello. This was followed by a selection of Gilbert & Sullivan songs:
Brightly Dawns Our Wedding Day from The Mikado
I Hear The Soft Note from Patience
The Policemen's Chorus from The Pirates of Penzance
Take A Pair Of Sparkling Eyes from The Gondoliers (solo: Howard Feather)
Strange Adventure from The Yeomen of the Guard
Tit-willow (men) from The Mikado
When Britain Really Ruled the Waves (solo: Terry Pearce) from Iolanthe
The concert drew to a close with two duets: My Heart Will Go On by James Horner sung by Helen Pearce and Abby Evans, and Homeward Bound by Marta Keen sung by Helen Chomyszyn and Michelle Jochym. The full choir performed the final item – a rousing rendition of Seventy-Six Trombones from the musical play The Music Man by Meredith Willson.